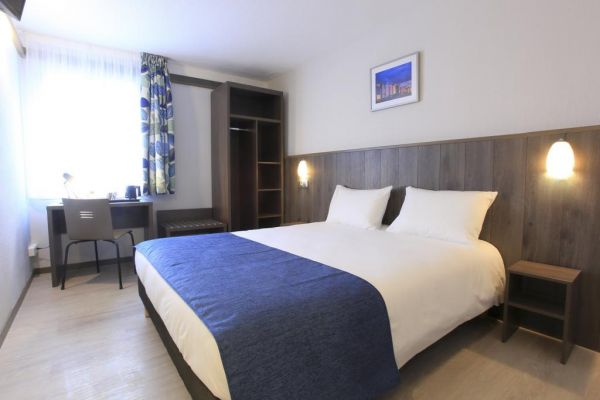 Enjoy the comfort of the Calais Brit Hotel on your northern adventure!
Our hotel is ideally located and open 24/7 so you don't have to worry about what time you arrive: you can check in at any time!
To ensure your safety and comfort, the hotel has a night watchman and an elevator.
Opposite our establishment, in the extension of the rue des Soupirants, there is an access for the closed and secured parking of the city. This one is free for 1h30. Beyond that, it will cost you 10 cents for every 6 minutes or 1€ per hour. The maximum rate is 11€ for 24 hours spent in the car park, beyond that the rate resumes as previously indicated. Tickets are taken at the car park in rue du Temple. (If ticket loss: 11€)
Find your room among our Calais hotel's 66 options: double, standard or superior, the choice is yours!
In each room, find the equipment you need for a nice stay: a high standard mattress guaranteed to give you a good night of sleep, a private bathroom, a telephone, a flat screen TV and free Wi-Fi.
Enjoy our TV lounge and relax after a long day spent working or visiting Calais and its surroundings.
Share a drink in the warm and friendly ambiance of the hotel's bar.

Breakfast
€10,50


Check-Out
11h30
Reception

Home 24H/24

Night watchman

Opening hours of the receipt : 24/7

Elevator

Check-in
15h00

Check-out
11h30
Room Facilities

Heating


Télévisions

Phone

Safe
Method of payment accepted

Credit Card

Cash

Holiday vouchers

American Express
Car-Park / Garage

close
Rooms

65 rooms


Disabled Room
Animals

Animals accepted : €6,00
Bathroom

Towels


Hairdryer
Restaurant

Restaurant nearby
Bar

Bar

Billiards
Breakfast

Breakfast Buffet : €10,50
Internet

Free Wifi

Optical fiber
Wake up to a tasty breakfast with fresh and local products to start the day on a positive note and try some culinary specialties!
To ensure everyone's comfort, our hotel is totally smoking free.
You've found the ideal place to book your trip to Calais, so we're waiting for you at the Calais Brit Hotel!
The reviews of Brit Hotel Confort Calais

Indice de
Satisfaction client
Is very good price I recommend to lots of my friends and family
Read more
A good hotel experience dinner and service was great, breakfast service very good--overall experience was very satisfactory
Read more
The hotel was perfect for our needs, the bed and rooms were comfy, clean and well laid out.
Read more
The Brit Hotel met our needs of an overnight stay very well.
Read more
My overall experience was good and i will surely use it again
Read more
All good merci,even the carpark attendant was helpful
Read more
A great stop over on the way to and from a tunnel crossing- reasonably priced which included plentiful buffet style breakfast options .
Read more
Very central, excellent and stress-free stay for one night. Nice brasserie to eat nearby (Le calice) or other restaurants. Beer available at the hotel itself. Loved the family room and the fact dogs are allowed (extra fee).
Read more
Very friendly and fab for a overnight stay for onward travel
Read more
Frequently asked questions about our hotel in Calais :
Does the hotel have parking?
A public and closed car park is located close to the hotel.
What's the price of breakfast?
The price of the breakfast buffet is 9,50€.
What are the opening hours of the hotel?
Our hotel welcomes you 24 hours a day.
Does the hotel have a restaurant?
No, but a partner restaurant with tasty cuisine is 50m from the hotel.
What are the check-in and check-out times?
The check-in can be done from 3:00 pm. The check-out can be done until 11:00 am.